Page 1 of 2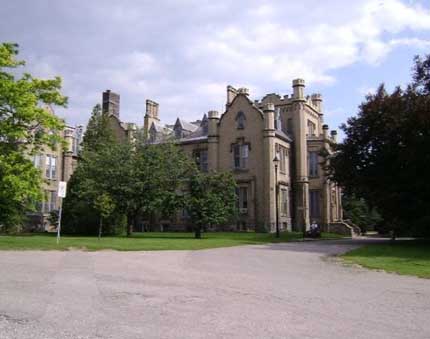 In 1859, this imposing structure was originally built for Nelson Reynold's, the sheriff of the county and took three years to complete. A mock-Elizabethan castle even has a legendary "hidden chamber" and a secret tunnel to complete it's reputation as a true castle of old.

In 1879, it came into the possession of the Methodist Church who turned it into the Ontario Ladies' College which changed names in 1979 to Trafalgar Castle School and is recognized as one of the finest private girls school's in the province.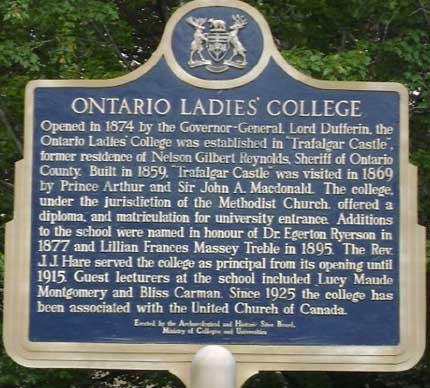 Reports of the school being haunted have filtered to us almost since the inception of this site. Some students past and present have sent us tales and reports from phantom footsteps to doors that opened and closed on their own volition.

One tale that seems to have transcended from a sighting to folklore and is often repeated (and is in John Robert Colombo's Myteries of Ontario,) is the story of an elderly lady coming to the school at night and, on meeting the caretaker, asks to see her granddaughter in room 232 (according to Principal George Biggs in Colombo's book, room 232 is a constant in most of the stories he's heard,) and once she is lead to the room, the caretaker turns to address the old woman to of course find she's vanished.

Like many "old schools", this beautiful building definitely deserves a ghost story whether it's based on truth or merely a legend passed from school girl to school girl.

OF NOTE: We received sometime ago a report from a student who tried to contact the ghosts using a Ouija board. Aside from her success or lack of it, we remind people that our site and society does not endorse or recommend the use of Ouija boards.
Can you add anything to these reports? Please email us at This e-mail address is being protected from spambots. You need JavaScript enabled to view it
Photo credits: Ronda Walfield