Site Map Breadcrumbs
Who's Online
We have 72 guests online

Feed Entries
Facebook Like Box
Welcome to TorontoGhosts and OntarioGhosts!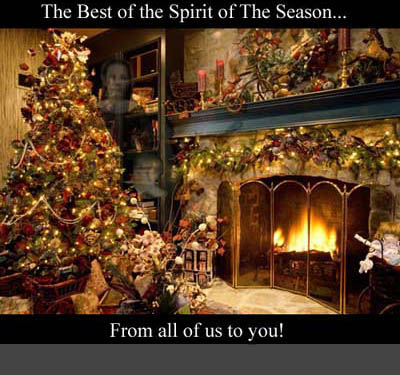 'Tis the season to take a breather of a sorts from the world of ghosts and hauntings... well, not really as we never stop and it's a given that I will receive some new books this December 25th on our favourite topic, devour them, and hopefully offer some new information and outlooks to the site here...
...but as a rule, we do kind of kick back and enjoy the festive season with all it's trimmings and ceremony... although we will still be answering mail, and look into things... just a touch more relaxed pace through December and early January. Of course, no doubt our Facebook group will be humming along and we do hope you'll join in if possible
click here for the Facebook group
There is, of course, a "ghostly connection" to Christmas some people might be unaware of... and I've jotted it down in some minor detail on the main PSICAN site and absolutely invited one and all to have a "boo" if interested. Just
click here
to read that.  We do hope everyone reading this has a safe and happy holiday season... a Merry Christmas... a Happy New Year... a Happy Hanukkah... a Merry Yule... a Happy Hogmanay... or however you celebrate... all of us here at the Toronto and Ontario GHRS wish you and you're loved ones the very best and thank you all for your input, reports, comments, and just having a look in on us year round!

---
Resurrection Mary Goes Canadian!

In Chicago, there is a cemetery named "Resurrection Cemetery" where an interesting story is told...

It's of a beautiful young woman who meets men hitch-hiking, asks them on a date of sorts (usually dancing). The men notice her odd "old fashioned" clothes and the cold feeling of her skin.

After a time, she asks to go home and then, as the men (who we assume are driving,) are passing Resurrection Cemetery, she asks them to stop.

Needless to say, when they do, the turn to ask why they've stopped here of all places and *poof*, their new friend has vanished!

Read more... [Resurrection Mary Goes Canadian!]

Today, the ruins of the Emery farm are hidden by tangles of shrubbery and overgrown with vines. In 1942, the wartime measures act allowed the government to expropriate this farm, along with many others as a training base for troops going overseas. The war ended, and the government kept the land. Over the years, the old farm became a favourite attraction for parents and children alike. Each summer, we'd trudge to pick cherries, plums, and pears. We'd compete with the hornets for the pears, dashing up to a tree, grabbing two or three pears and rushing back to drop them into our sacks. In the fall I remember hauling home pillowcases crammed full of apples. Of course, the deserted fieldstone house drew children like a magnet. I remember we would cautiously explore each room, then climb the rickety steps to the attic. Afterwards, we would dare each other to climb down the steep stairs into the dark dank basement. I don't remember anybody who was that brave, but it did make for some very scary stories around the campfires at night..

Read more... [Grey County - Emery Farm]

The Grand Mystery of Ambrose Small

One of the greatest unsolved mysteries in Canadian history is the disappearance of theatre magnate Ambrose Small.

At the time of his disappearance, Small was 53 years old and at the height of his career. A successful Canadian theatrical producer and self-made millionaire, he owned theatres in 7 cities and controlled bookings in 62 others across Ontario. Although he lived in a Toronto Rosedale mansion, the showcase of his pride was London, Ontario's Grand Theatre (on Richmond Street), which he rebuilt after a devastating fire in 1900 and owned and operated with a passion.




Read more... [The Grand Mystery of Ambrose Small]

In the early 1970's, a ghost appeared in Toronto. The ghost was summoned by a group of people and the ghost had a lengthy history...

A member of England's aristocracy from around the mid 1600's made an appearance. He had a rather sad life of being married to one woman while being very much in love with another. Even sadder was when his wife had his love killed in a fit of jealousy and this man, in turn, unable to cope without his lady love, killed himself. This man was named Philip.

After a jump of 300 years or so, we come to the early 1970s... Eight people had regular visits with Philip then. He rapped out answers about himself on a table (one knock for yes, two knocks for no,) and even moved about the table by his own unseen force.

This ghost had all the trappings of a traditional haunt... the sad story, a tragic and sudden death and a life (as such) not quite complete.

Read more... [The Philip Phenomenon]
Help Us Continue Our Work:
© 1997 - 2014 Ontario Ghosts and Hauntings Research Society
While Torontoghosts/Ontarioghosts welcomes all communications, please note that if you are under the age of fifteen (15) years old, you must ask a parent or legal guardian to contact us on your behalf. We apologise for any inconvenience this may cause.

Polls