Site Map Breadcrumbs
Facebook Like Box
| | | | |
| --- | --- | --- | --- |
| Gibson House Museum - North York | | | |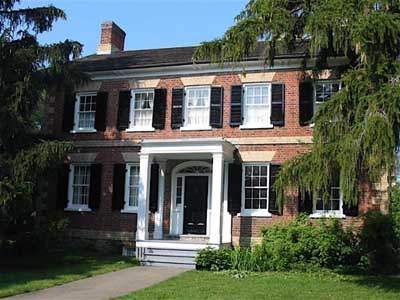 Photo Thanks To OntarioPlaques.com



Gibson House is a museum in the North York Centre neighbourhood of Toronto, Ontario, Canada. This historic property was built in 1851 by David Gibson, a Scottish immigrant, land surveyor and participant of the Rebellion of 1837. For his activities in the Rebellion, his house was destroyed and he was banished from Upper Canada, so he fled to nearby western New York, settling with his family in Lockport. Though he was threatened with losing his land, he continued to own the property in what was then York County, near Toronto. His wife was not banished, and she was able to travel between Lockport and Toronto to collect rents and profits on the farmstead.

By 1848, David Gibson was pardoned, along with many who took part in the Rebellion. He returned with his family to York County, and built this house in 1851. Its style reflects a prosperous man, and some of its furniture and engravings reflect his U.S. residence in motif.

The following report was sent in by one of our readers:


The Gibson house was very different. People talked a lot about a man standing at the window at the front of the house, my aunt who used to live on that same street ( when there was houses there) said that a man would look in their windows at night, he had a big top hat on. My cousins who used to live there remember him! They said that he was very scary looking. I always had the feeling of being watched when I would have to get dressed into my costume in the staff room, which at the time was located in the basement (cellar). And I once I saw a young man sitting on a stool in the corner of the servants room..which was located in the attic.....

Apparently the house had burned down and was rebuilt at some point. I think during the rebellion. I always felt welcome in the front parlour and in the kitchen, but when I went into the cellar or upstairs I always felt unnerved. Also there were cold spots in many different places upstairs but mostly in the parlor..where Mrs Gibson used to sit.

No matter how warm it was ( because it was right next to the fireplace) it was always Cold! Now this was YEARS ago, I must have been 13 or so when I was working there as a volunteer. It would be interesting if someone did an investigation on this house, I'm about 90% positive that you would find something! I'm not sure if they still have volunteers there...If they do, I'm sure some stories would arise.

Our thanks to the witnesses for sharing this report with us.

Do you have anything else to share about Gibson House? Please contact our researcher Sue at This e-mail address is being protected from spambots. You need JavaScript enabled to view it .

Help Us Continue Our Work:
© 1997 - 2017 Ontario Ghosts and Hauntings Research Society
While Torontoghosts/Ontarioghosts welcomes all communications, please note that if you are under the age of fifteen (15) years old, you must ask a parent or legal guardian to contact us on your behalf. We apologise for any inconvenience this may cause.

Polls